When I was asked by the amazing ladies at the Nesting Project to design their 3,000 sft workshop, showroom and offices, I was delighted but a bit surprised. These ladies are incredibly talented and have a great vision, I assumed they would want to take it on themselves. But it was a little more challenging than just a workshop.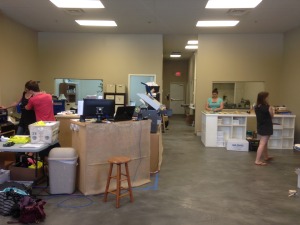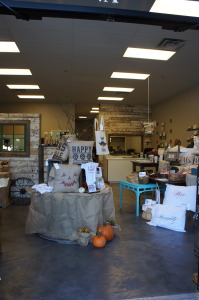 A few years ago, they started a custom print business where they design and print wedding invitations, and event stationary. Then they began custom designing and printing t-shirts. They became one of the most popular Etsy retailers. When they decided to move into a retail space, they contacted me to help take their vision and pull it all together. The challenge was combining their design office and 2 workshops with a sitting area/ coffee bar, conference and meeting area, display windows and retail showroom. They wanted to create a welcoming atmosphere where customers feel comfortable, enticed to buy packaged merchandise, or sip coffee as they wait for their custom goods. They also needed an accommodating environment for event and wedding planners to feel comfortable bringing their clients in to select from their designs in the conference area.
It was a lot, but the challenge also came with a tiny budget since they were a start up and most of the budget went to custom built cabinets. Luckily the owner's husband owned a custom wood working shop called Knock On Woodworks. The poor guy constantly heard "Rick can build it"! They reclaimed some amazing wood from a 100 year old home that was to be demolished. He installed the wood cladding on the sitting area and rear walls and built cabinets and pony wall with open windows that surrounded the main workshop in the showroom area.
This is where I came in. The space was vast and the ceilings were high with lots of light. The owners wanted a warm and inviting space. We selected neutral, warm tones on the walls accented by the reclaimed wood and a sky blue on the ceiling to detract the attention from the standard acoustic drop ceiling. The cement floors were coated done with a West Coat product in a gray based blue with lots of texture and movement.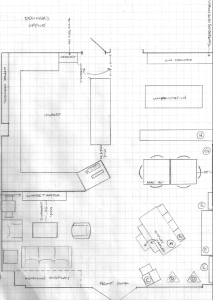 They were faced with a big empty wall, split by a vertical soffit in the main workshop section of the showroom. The luggage shelves provided an amazing, eye catching element to this awkward space. These shelves house custom t-shirts, totes and pillows that are visible from each section of the showroom.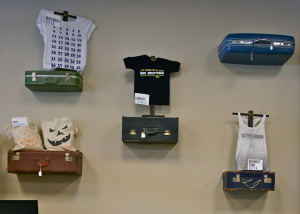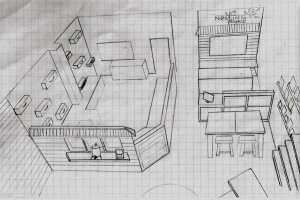 They needed a cashier counter that was accommodating to customers entering the showroom. This was placed between the existing assembly counter in the back of the showroom and the conference table. Customers are guided to it by the flow of the displays in the showroom. We also added more storage in the assembly area and under the cashier counter. This created a clean and organized appearance for overflow.
The conference area needed to double as a meeting space for clients like wedding planners as well as a work space for busy days. Knock On Woodworks built a counter height table from reclaimed wood. The wall behind it housed samples of custom cards on teal colored ledges. Above the table is a chandelier that was made using samples of their event cards.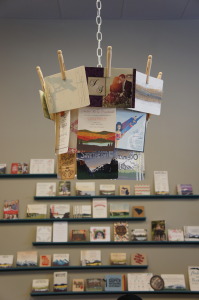 The Nesting Project was new to retail and displays for their creations. It took a little creative design and a little engineering, but a perfect focal point was created to showcase their custom t-shirt options. Baskets were used to house each sized shirt for each style of shirt they offered. Boxed shelves housed more custom items like pillows and totes. This wall was installed using a mixture of the reclaimed wood from the home's raw exterior and painted interior to provide a focal point to draw attention to the customer. In front of the wall, display tables were layered with vignettes of items that were packaged to sell.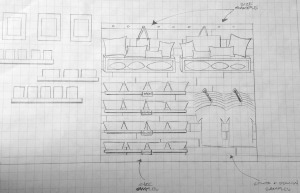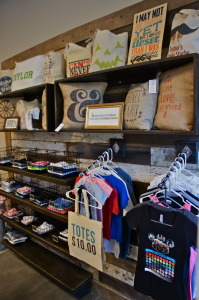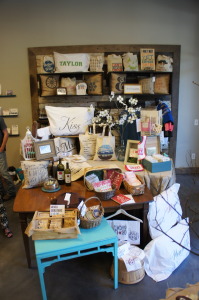 They got a steal on this old wire spool that functions as the central merchandise display table that will change with the seasons.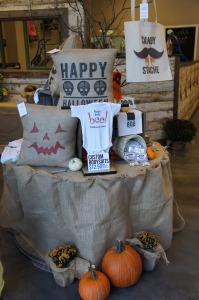 In front of the sliding window panes of the pony wall is a sitting area with a coffee bar. Here guests can relax on the vintage sofa with a cup from the coffee bar while their children play and they watch the action of the print shop from behind the reclaimed windows.
The front window that has less visibility from the traffic, features old shutters that were painted, distressed and attached together in a triangle for easy access to all sides. Vintage hooks were added to display totes and t-shirts.
The main display window features a real tree that will support items that hang as the displays are changed out. This tree sounded amazing in theory when we came up with the idea, but in reality, it was… near impossible. This display was designed with painted and distressed frames that hung to showcase the art- their custom t-shirts. Stacked on the sides are vintage crates and luggage to display totes, pillows and custom designed event cards. And placed in the foreground is an homage to the business name, a large nest with custom event cards and colorful birds eggs.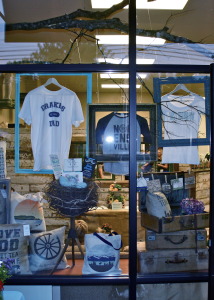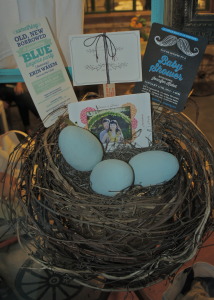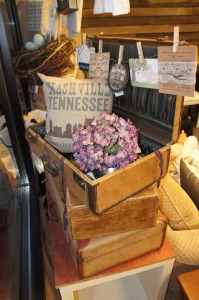 The existing commercial bathroom lacked charm and needed to double as a changing room. Walls were painted in a warm cappuccino, a vanity replaced the existing commercial pedestal sink and decorations adorn the walls to add some personality.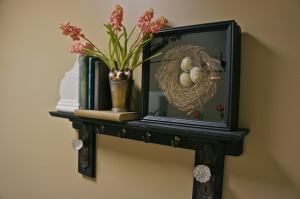 This was all accomplished with an incredibly tight budget. So thrift stores became my best friends. All furniture, display fixtures and decorations were reclaimed and salvaged to evoke the warm and welcoming charm that the owners were looking for. I think we pulled it off, what do you think?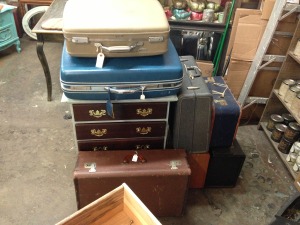 What is your favorite feature in the showroom?